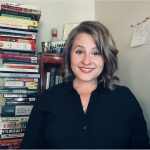 Alison B. Curry is a Ph.D. Candidate in History at the University of North Carolina at Chapel Hill. At UNC, Curry is working with Dr. Karen Auerbach. Previously, she received her M.A. in Holocaust and Genocide Studies from Gratz College, advised by Dr. Michael Steinlauf, and a Graduate Certificate in Digital Public Humanities from George Mason University.
Curry's dissertation, tentatively titled "Ritual, Tradition, and Change in the Jewish Cemeteries of Poland, 1918-1945," will examine the ritual, spatial, and functional uses of Jewish cemeteries in Poland during the interwar period and through the Second World War. Through examination of municipal records, land holdings, kehillah records, oral histories, memoirs, and testimonies this project argues that during these time periods cemeteries served a central space through which Jewish identity was contested and enforced. Curry's dissertation will explore how Jewish cemeteries were central spaces of conflict between tradition and modernity, religion and secularism, and served as a boundary between the world of the living and the dead. By examining such spaces over the period of the interwar and the Second World War, this dissertation suggests that scholarly assessment of the two periods can be accomplished together, and such comparative assessment allows historians to make better sense of continuities and divides in Jewish history.
While at UNC, Curry has received multiple fellowships and awards, including the Digital Humanities Fellowship from the Digital Innovation Lab at UNC-Chapel Hill, the Foreign Language and Area Studies Fellowship in Polish, the Jack O. Spies and Family Jewish Studies Grant from the Carolina Center for Jewish Studies, the ASEEES Dissertation Research Grant, the Graduate Studies Language Workshop Grant from the Carolina Center for Jewish Studies, and the Graduate Student Research and Travel Grant from the Carolina Center for Jewish Studies. She has also been invited to speak on a panel entitled, "The Holocaust, Jewish History, and Memory: New Directions in Research" at the University of North Carolina at Chapel Hill. Most recently, Curry presented research at the "Bridging Divides: Rupture and Continuity in Polish Jewish History" Conference sponsored by the Emanuel Ringelblum Jewish Historical Institute, the Yale Fortunoff Archive, and Yeshiva University's Fish Center for Holocaust and Genocide Studies in May 2022. With the Kagan Fellowship, Curry will continue research in Poland and Israel in the upcoming academic year. She has also been awarded The Aleksander and Alicja Hertz Memorial Fellowship and the Samuel and Flora Weiss Research Fellowship in Polish Jewish Studies from the YIVO Institute for Jewish Research, where she will be in residence in spring 2023.