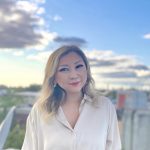 Laura Auketayeva (she/her) is currently Ph.D. Candidate in the Department of History at American University, Washington, D.C. She received her B.A. in International Relations and History from Boston University, as well as an M.A. in History from the State University of New York, Albany.
Her dissertation focuses on the European Jewish refugees in the Soviet Union during the Holocaust. By incorporating social network analysis, her work tackles the cultural and local dimensions of this transnational story. Laura also argues that exploring the items that crossed numerous borders can provide us with further clues about the life of these refugees in the Soviet Union during WWII. European Jews found something that was bordering safety, even though that also meant they needed to figure out ways to navigate the Soviet system in order to continue moving across the internal borders to increase their chance of survival in the harsh haven of the Soviet Union. Despite the rising number of monographs on Jews and the Soviet Union, the topic of Jewish refugees in the USSR requires further research. Her study hopes to be a small part of that effort.
In April 2022, Laura completed the Sosland Foundation Fellowship at the Jack, Joseph and Morton Mandel Center for Advanced Holocaust Studies at the United States Holocaust Museum in Washington D.C. During her fellowship, she explored The Jeff and Toby Herr Oral History Archive and the Soviet-time records from the Central Asian republics they were sent to, to shed light on the everyday life for Eastern and Central European Jews who fled or were evacuated to the interior of the Soviet Union.
Laura had served as a doctoral intern at the National Museum of Jewish History where she created and presented a museum exhibit model titled "Jewish Woman Scientists and the Manhattan Project." She published several articles, including "A Curious History of Two Banned Soviet Jewish Poems," "Some Things about Joseph Eyer" and finding aids about the Soviet archival collections at the Kislak Center for Special Collections, Rare Books, and Manuscripts at University of Pennsylvania. She presented her research articles titled "Jewish Youth and the Soviet Union, 1941-45" and "Refuseniks: Jewish Identity and Gender" at the Association of Jewish Studies Conference, Northeastern University Graduate Conference, and Lessons and Legacies Holocaust Conference (2020 and 2018).