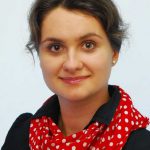 Agnieszka Witkowska-Krych, Ph.D. Student
Agnieszka Witkowska-Krych received her first M.A. in Cultural Studies, her second M.A. in Hebrew Studies (both within the College of Inter-Faculty Studies in Humanities, University of Warsaw) and the third M.A. in Sociology (Collegium Civitas). Agnieszka is currently a Ph.D. student in the Institute of Polish Culture at the University of Warsaw, Poland.
The doctoral thesis she will be working on is a monography of residential institutions that were operating in the Warsaw ghetto between 1940-1943, providing help to orphans and abandoned children living there. The number of such places was approximately fifteen, but most of them are not mentioned in historiography, and in fact, usually only a few, such as the famous "Home of Orphans" run by Janusz Korczak, were present there.
In her thesis, she will reconstruct this fascinating net of institutions and will examine how the external situation affected their everyday life, the style of work of the employees and the general situation of their beneficiaries.
What were the new objectives? How did people involved in this activity perceive their responsibility and perform their tasks? How did the children understand and deal with these new conditions? In addition, and also important, is how this story was told hic et nunc and later after the war had ended.
Such an approach will combine Children Studies, Holocaust Studies and Studies of Crisis and Critical Discourse Analysis. As far as the selected subject is concerned, this will be ground-breaking work, as there are almost no holistic studies devoted to Jewish orphans and orphanages operating in the Warsaw ghetto.
Agnieszka will use the Saul Kagan Fellowship to complete her dissertation.