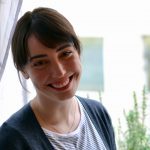 Robin Buller, Ph.D. Candidate
Robin Buller's dissertation examines the history of Sephardi Jewish immigrants in Paris during the interwar period and the Holocaust. Hailing from the recently dismantled Ottoman Empire, this population numbered upwards of twenty-thousand individuals at the outbreak of the Second World War.
Ms. Buller is particularly interested in connecting Jewish history and Holocaust studies by asking how the cultural and legal particularities of Sephardi immigrants impacted their experiences in both peacetime and wartime. Familiarity with the French language and culture as well as "extraterritorial" privileges and foreign consular protection distinguish the Sephardi interwar and Holocaust experience from that of other immigrant Jews in France. These characteristics presented opportunities for social and legal connections in the interwar years that opened options for rescue and survival during the Holocaust.
Ms. Buller's project utilizes a wide variety of sources produced by and about Paris' Sephardi immigrant community during the interwar years and the Holocaust. These include personal and family papers, associational documents, consular records and perpetrator and police files. She also works intensively with oral testimony and has conducted a number of her own interviews with Sephardi immigrant Holocaust survivors in France.
Ms. Buller received her B.A. from the University of Toronto, and her M.A. from the University of North Carolina. She has received support to conduct her research on Sephardi History and the Holocaust from the Carolina Center for Jewish Studies and the University of North Carolina Graduate School. As a Kagan Fellow, she will continue her archival research in France, Israel, Portugal, Spain and the United States. Her supervisors at UNC-Chapel Hill are Dr. Karen Auerbach and Dr. Donald Reid.