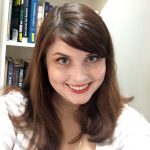 Meghan Riley is a PhD student in Modern European History at Indiana University. Her doctoral research focuses on the activities of international humanitarian aid organizations in French concentration and internment camps from 1938-1945. She is interested in the gray zones of interactions between Vichy France and the aid organizations in the space of the concentration camp.
Her research will ask how humanitarian work in the camps challenged, reinforced, or complicated Nazi and Vichyite categories and ideologies. Additionally, she will use a transnational lens to advance our understanding of the Holocaust by viewing the concentration camp as a sphere of interaction between the French government and the American aid organizations and then asking what we can learn about the French and American contexts of these exchanges. In her dissertation, she will also excavate the foundational categories of modern human rights discourse—"neutrality," "refugee," and "statelessness"—from the work of international aid organizations in the French camp system.
Ms. Riley has bachelor degrees in English Writing and in History from the University of Oklahoma. She has received funding from the History Department and from the Robert A. and Sandra S. Borns Jewish Studies Program at Indiana University. In 2016, she was an Auschwitz Jewish Center Fellow. In addition to being a Kagan Fellow, she is a Fulbright Fellow (France) and will be spending much of the 2017-2018 school year in Paris.
Her doctoral adviser is Professor Mark Roseman.