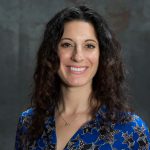 Alexis Herr received her BA from Claremont McKenna College. She received her doctorate in Holocaust History from the Strassler Center for Holocaust and Genocide Studies, Clark University. Ms. Herr has held teaching positions at Keene State College and Northeastern University. She is the recipient of numerous fellowships and awards including the Saul Kagan Claims Conference Dissertation Fellowship (2012-2014);  and the European Historical Research Infrastructure Fellowship (2017).
She is the author of The Holocaust and Compensated Compliance in Italy: Fossoli di Carpi, 1942 – 1952 (New York: Palgrave Macmillan, 2016) and the editor of Rwanda: The Essential Reference Guide (Santa Barbara, CA: ABC-CLIO, forthcoming, 2018).
Her current book project entitled Perpetrators on the Periphery of Genocide: Italian Police during the Holocaust, examines the role of the Italian police during Fascism (1922-1943) and under German occupation (1943-1945). Scrutinizing the actions of ordinary police, Dr. Herr questions whether geographical and temporal limits play a role in determining whether one's actions make her/him a perpetrator of genocide.