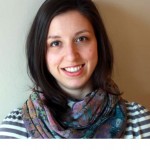 Stephanie Corazza's dissertation examines child welfare workers who rescued Jewish children during the Holocaust in France. She follows these workers as they navigated different sites of relief and rescue, including French internment camps, children's homes run by charities, and foster family homes and institutions that sheltered children under social worker surveillance.
This work was rarely stationary and movement became a key strategy of rescue. For instance, representatives of American and French organizations cooperated to move groups of children to the United States in 1941 and 1942, and in the final two years of the war rescuers smuggled children across French borders into Switzerland and Spain.
The dissertation chronicles the transition from legal forms of social work and relief efforts in place during the first two years of occupation, to clandestine resistance activities in the final years of the Holocaust in France; it also analyzes individual and institutional continuities from prewar to postwar.
Stephanie's research draws on a variety of primary source material from archives in New York, Philadelphia, Washington D.C., and Paris, and also incorporates video testimonies. Recently, she presented part of her research at a conference in Heidelberg, Germany.
She has received funding from Canadian federal and provincial government sources, and the History Department and the Centre for Jewish Studies at the University of Toronto. She will use the Saul Kagan Fellowship to complete her dissertation. Stephanie's doctoral advisor is Dr. Doris Bergen.