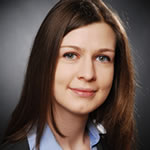 Elisabeth Pönisch, PhD Candidate, Institute of Sociology, University of Freiburg, Germany
In her interdisciplinary study, Elisabeth Pönisch examines the enforced "relocation" to and life in the so-called "Jews' houses", which were established in the course of the "Law on Tenancies with Jews" in 1939. The residents experienced the life in the "Jews' Houses" as a human crisis resulting from the destabilization of the social order. The aim of this study is to identify the characteristics of the processes of communitization (Vergemeinschaftungsprozesse) in extreme situations and the consequences for the identity of the individuals.
"Jews' houses" as specific aspects of life were never part of scientific interest, neither for historians nor for sociologists. Instead of just tracing how the process of relocation was organized, the study concentrates on the subjective experiences, perceptions as well as the social interactions and the relationships between each other. Furthermore, Ms. Pönisch analyzes the (survival) strategies that the residents of the "Jews' Houses" developed to manage the everyday life, and the new forms of collective actions that emerged under these extraordinary life conditions and under the mechanisms of oppression. In order to realize this, archival sources and ego-documents, such as diaries, letters, and memoirs will be investigated.
Ms. Pönisch was also a fellow of the Leo Baeck Programme, organized by the Studienstiftung des deutschen Volkes and the Leo Baeck Institute London (2013/2014), and a fellow at the Center for Holocaust Studies at the Institute for Contemporary History Munich (01/2015 – 04/2015). Her dissertation is supervised by the Sociologist Prof. Ulrich Bröckling (University of Freiburg) and the Historian Prof. Patrick Wagner (University of Halle).