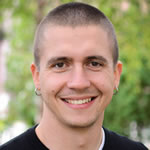 Mihai Poliec is a PhD Candidate in Holocaust History at Clark University in Worcester, Massachusetts.
In his doctoral dissertation, Civil Society's Complicity during the Holocaust in Romania, he examines the participation of civilians in anti-Jewish violence in Bessarabia and Bukovina between July 1941 and August 1944.
Poliec earned a Bachelor's in Psychology and a Master's in Judaic Studies from the University of Bucharest.
He has also studied Judaism and the Holocaust in Israel at the Hebrew University of Jerusalem, and in Sweden, at Paideia: The European Institute for Jewish Studies.