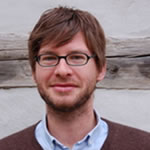 Ph.D. candidate, Center for Jewish Studies Berlin-Brandenburg and Free University Berlin
Markus Nesselrodt's dissertation examines individual experiences of Polish Jews who survived Nazi persecution during World War II by flight or deportation to the interior of the Soviet Union. The history of more than 230,000 Polish Jews in wartime exile in the Soviet Union has received relatively little scholarly attention so far.
The dissertation aims (a) at reconstructing individual narratives of Polish-Jewish everyday life, death and, survival in the Soviet Union; and (b) at examining how Polish Jews reflected on their recent experience in exile in the light of the Holocaust and the postwar reality.
The dissertation covers a decade of forced displacement between 1939 and 1948, which echoes the perception of many Polish Jews understanding their migration as one coherent story. By analyzing a broad range of sources such as diaries, reports, accounts, poetry, memoirs and videotaped oral history interviews, the dissertation contributes to a more detailed and nuanced understanding of the Polish-Jewish wartime experience in the Soviet Union.
Markus Nesselrodt has received funding from the Center for Jewish Studies Berlin-Brandenburg, the German Historical Institute in Warsaw and the German Academic Exchange Service (DAAD). He will use the Saul Kagan Fellowship to complete his dissertation. Markus Nesselrodt's advisors are Professor Dr. Gertrud Pickhan and Professor Dr. Stefanie Schüler-Springorum.