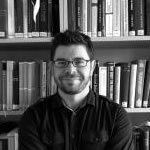 Tomasz Frydel examines what has been called by historians as the "third phase" of the Holocaust, namely the attempt by the Germans to destroy the remaining Polish Jews to survive Operation Reinhard in the General Government. These desperate fugitives fled ghettos and jumped off trains headed for death camps as they sought shelter among peasants in rural areas from 1942-45. The occupation authorities labeled this process Judenjagd, or the "hunt for Jews." Approximately 250,000 Jews – roughly 10 per cent of the 2.5 million Jews still alive in the summer of 1942 – made the escape to the so-called "Aryan side." It is estimated that less than 50,000 survived.
Frydel's research aims at understanding the forces that contributed to the high death rate and the survival strategies that allowed some to live to see liberation. He is particularly interested in the social mechanisms and dynamics that helped to transform ordinary people into perpetrators. His dissertation aims at a bottom-up social history of genocide by paying close attention to a range of small town and village structures that were co-opted by the occupation authorities for the purpose of the Judenjagd – including village heads, village guards, the local Polish "Blue" Police, fire brigades, foresters, and gamekeepers.
His dissertation contextualizes the shelter and the hunt for fugitive Jews with parallel processes aimed at other fugitive groups, such as Soviet prisoners of war (POWs), partisans, deserters from the German army, Roma, and others. Applying the sociologist Clifford Geertz's "thick description" to his research allows for a broader examination of the social world of would-be perpetrators and the wider dilemmas that informed their participation in the Judenjagd.
The dissertation is built around a microhistory that explores several counties in the southeastern region of District Krakow of the General Government: Tarnów, Dębica, Rzeszów (Reichshof), Jarosław, Jasło, Krosno, Przemyśl, and Sanok. It also uses the German-administered county of Dębica as a statistical case study. The primary archival sources used in his research are postwar trial records of individuals tried for collaboration on the basis of the so-called August Decree issued by the pro-Soviet Polish government.
Frydel is a PhD student in the Department of History at the University of Toronto in collaboration with the Anne Tanenbaum Centre for Jewish Studies. He will use the Saul Kagan Fellowship to complete his dissertation. Frydel's doctoral advisor is Dr. Piotr Wróbel.