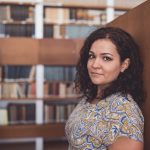 Denisa Nešťáková, Ph.D., graduated from the Comenius University in Bratislava, with a degree in General History. Her dissertation was dedicated to Arab-Jewish relations during British Mandate for Palestine through the perspective of the German Temple Society.
Denisa Nešťáková's current project Privileged to be in Hell. Jewish Women in the Sereď Camp aims to reconstruct the history of Sereď camp, one of three main internment camps for Jews in Slovakia, established by the local authorities. The project approaches the Holocaust in Slovakia through the lens of social history, giving particular attention to the experiences of Jewish women imprisoned as forced laborers. Base on the research on Sereď, Nešťáková argues that various aspects of a person's identity, such as ethnicity, gender, nationality, age, class, sexuality, religion, political affiliation, disability, etc. had major impact one's life and survival during the Holocaust.
In last three years Nešťáková has worked as a research associate at the Herder Institute in Marburg on the project "'Family Planning' in East Central Europe from the 19th Century until the Authorization of 'the Pill'", focusing on Czechoslovakia. She has been a post-doctoral fellow of the Foundation for the Memory of the Shoah, Paris, as well as a Joseph-Wulf Fellow at the Center for Holocaust Studies at the Institute for Contemporary History in Munich and at the Memorial House of the Wannsee Conference in Berlin. During her doctoral studies he held various fellowships in Israel, and Germany.
Denisa Nešťáková's publications include articles devoted to the issues related to the history of the Holocaust as perpetrated in Slovakia: "'Privilege' Space or Site of Temporary Safety? Women and Men in the Sereď Camp," in Places, Spaces, and Voids in the Holocaust, ed. Natalia Aleksiun and Hana Kubátova, (Göttingen: Wallstein, 2021), pp. 315-321; "Sending Greetings from Auschwitz. Smuggled information about the destruction of Slovak Jewry," The Journal of Holocaust Research, 2021 (forthcoming); "Jewish Centre and Labour Camps in Slovakia," in Between Collaboration and Resistance. Papers from the 21. Workshop on the History and Memory of National Socialist Concentration Camps, ed. Karoline Georg, Verena Meier, and Paula Oppermann (Berlin: Metropol, 2020,), pp. 117-145.
Her research interest includes Holocaust Studies, Gender Studies, and 20th century Central- East European History.