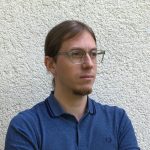 Nikolaus Hagen received his PhD in history from the University of Innsbruck in 2018.
He has been the recipient of a joint postdoctoral fellowship of the Vienna Wiesenthal Institute for Holocaust Studies and Yale University's Fortunoff Video Archive for Holocaust Testimonies. Prior he was a European Holocaust Research Infrastructure Fellow at Arolsen Archives and a Fellow of the Jewish Museum Munich. He has also taught on the Holocaust and the history of Nazism at the University of Innsbruck and the University College of Teacher Education Vorarlberg, Austria.
Hagen has recently produced and introduction and a critical edition of Martha Saraffian's Holocaust testimony for the Fortunoff Archive (https://editions.fortunoff.library.yale.edu/essay/hvt-0237). He is the author and co-editor of several books, edited volumes, and articles, including Displaced Persons-Forschung in Deutschland und Österreich. Eine Bestandsaufnahme zu Beginn des 21. Jahrhunderts (Berlin: Frank & Timme, forthcoming), Antisemitismus in der Migrationsgesellschaft. Theoretische Überlegungen, Empirische Fallbeispiele, Pädagogische Praxis (Innsbruck University Press, 2020) and Der Fall Riccabona. Eine Familiengeschichte zwischen Akzeptanz und Bedrohung im 20. Jahrhundert (Vienna: Böhlau, 2017).
In his current research project, Hagen explores the persecution of "mixed marriages" in the peripheries of Nazi Germany, focusing on the gendered experiences of this persecution.