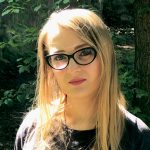 Katarzyna Grzybowska is a PhD Candidate at the Faculty of Polish Studies at the Jagiellonian University in Krakow, a member of the Research Center for Memory Cultures and the Curatorial Collective. Since 2018 she has participated in the Global Education Outreach Program Doctoral Seminars (2018-2021). Grzybowska received her M.A. in Polish Studies at the Jagiellonian University.
She is conducting a research grant "Human remains in a local landscape. Between collective and environmental memory" (The National Science Centre in Poland, grant no 2019/35/N/HS2/04522). She participated in scientific grants in the field of Memory and Holocaust Studies: "Awkward Objects of Genocide" (TRACES, Horizon2020, Reflective Society, 2016-2019) and "Uncommemorated Genocide Sites and Their Impact on Collective Memory, Cultural Identity, Ethical Attitudes and Intercultural Relations in Contemporary Poland" (Polish Ministry of Science and Higher Education, the National Programme for the Development of Humanities, 2016-2019). Recently she co-edited a book "Rzeczowy świadek" [Material witness] (Krakow: Jagiellonian Univ. Press, 2019).
Her interests are in Second World War issues and Holocaust Studies. Her academic research focuses on narrations related to sites and non-sites of memory. Her dissertation examines the memory of Krępiecki Forest. The aim of the research is to uncover and analyze contemporary functioning of a Holocaust by bullets place. The main conceptual frame for this task is the theory of collective and environmental memory. Grzybowska is conducting interviews, field research and archival research. She is interested in local (bystanders) narrations in terms of Holocaust geographies. Her advisor at the Jagiellonian University is Prof. Roma Sendyka.