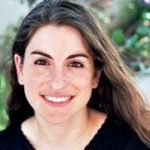 Ella Florsheim PhD studied the revival of Yiddish culture in the Displaced Persons camps in Germany after World War II and especially the broad-ranging Yiddish press published in the camps. She is interested in the different expressions of this revival, such as literary and journalistic writing and theatrical activity, and in particular its connection to the private and communal rehabilitation of the survivors after the war. In addition to her native Hebrew and knowledge of English, Dr. Florsheim has studied Yiddish throughout her academic career and passed her reading proficiency exams in German. Dr. Florsheim completed her PhD in the summer of 2013 under the supervision of Professor Hagit Lavsky and Professor Chava Turniansky at Hebrew University. Currently, she is the new Editor-in-Chief of Yad Vashem Publications.
Ella Florsheim of Israel grew up listening fascinated at the Shabbat table to her grandparents' tales of surviving the Holocaust. During her National Service working in Yad Vashem's photo archive, Ella encountered Yiddish for the first time from the inscriptions on the backs of photographs and was intrigued enough to pursue university degrees in Jewish history and Yiddish. "I believe my further studies not only of Jewish history, but also of the language of those Jews – Yiddish – enabled me to gain a deeper understanding of their world and culture," Ella says.
Dr. Florsheim was a Kagan Fellow at the Hebrew University of Jerusalem, researching the period immediately following the Holocaust and the revival of Yiddish during that period. "I hope my research will tell of the important role that Yiddish played during this period of 'returning to life' and how it contributed to the rehabilitation of survivors," Ella says.
Dr. Florsheim was grateful for the opportunity to meet the other Kagan Fellows at the 2011 annual Kagan Fellowship's Summer Workshop, held at the U.S. Holocaust Memorial Museum. "Writing a Ph.D in humanities is a very lonely job," she said. "You sit in archives, you sit in libraries, and you basically work by yourself. The sense of being part of the group and being supported by the best academics in the field worldwide gives you a different perspective of your work, and to know your work will be viewed by them is motivating."
"I am especially grateful that the Claims Conference program enabled me to forge ties with colleagues from different places in the world, ties that also produced exchanges of information that contributed to my research," says Ella.