Cohort II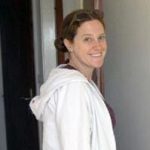 Kierra Crago-Schneider PhD studied the day-to-day interactions among Jewish survivors (mainly those living in Displaced Persons centers), Germans, and American soldiers in postwar Munich, specifically through their involvement with the postwar German economy. Dr. Crago-Schneider has been interested in Shoah studies since she was a little girl and learned that her grandmother's family fled from the Nazis. However, her interest in the rebirth of Jewish life in Europe was peaked when she met a good friend's grandmother and conducted an oral history with her about her life after escaping the horrors of the Holocaust.
While Dr. Crago-Schneider studied History and Jewish Studies as an undergraduate, little was mentioned about the transitional years between the Shoah and the creation of the State of Israel. She was intrigued to learn about the twelve years of Jewish camp life that continued after the end of the Nazi horrors in Europe. By reading the secondary works of scholars focusing on the immediate postwar period, working with survivors' testimonies and conducting oral histories, Dr. Crago-Schneider realized that this often overlooked period in Jewish History was monumental in the shaping of Jewish life in the post-war period and the formation of Israel. A native English speaker, Dr. Crago-Schneider has reading proficiency in German and Yiddish, and has studied Hebrew throughout her academic career. She plans to continue to study Yiddish at an advanced level and pursue additional language studies in German and Hebrew. She worked with Professor Saul Friedlander and Professor David Myers at UCLA, and was a lecturer in Jewish Studies at UC Davis. Dr. Crago-Schneider completed her PhD in History at UCLA in 2013.
Her most recent publication appears in both English and Hebrew: "Anti-Semitism or Competing Interests? An Examination of German and American Perceptions of Jewish Displaced Persons Active on the Black Market in Munich's Möhlstraße," Yad Vashem Studies Spring Edition 38.