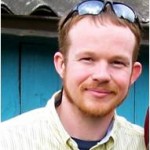 Dr. Waitman Wade Beorn is currently the Louis and Frances Blumkin Professor of Holocaust and Genocide Studies and assistant professor of History at the University of Nebraska-Omaha.  He teaches courses in German history, European history, the Holocaust, comparative genocide, and historical methodology.
Dr. Beorn received his PhD in History from the University of North Carolina- Chapel Hill in 2011 where he worked under the direction of Christopher Browning.
His first book examines the complicity of the German Army in the Holocaust in the Soviet Union, focusing on ground level participation. That book, Marching Into Darkness: The Wehrmacht and the Holocaust in Belarus, has recently been published by Harvard University Press and won the Thomas J. Wilson Memorial Prize for best first book from Harvard Press.  He is currently preparing a major project on the Janowska concentration camp outside of Lviv, Ukraine.
In addition to his book, he has published work in Holocaust and Genocide Studies, Central European History, and Holocaust Studies: A Journal of Culture and History.
Dr. Beorn has been awarded with Fulbright Foundation, Harry Frank Guggenheim Foundation, and Claims Conference fellowships and is also part of an interdisciplinary group, Holocaust Geographies, which explores the spatial dynamics of the Holocaust.
Outside of academia, he serves as a consultant to the United States Holocaust Memorial Museum particularly in their programs aimed at military personnel.  He has co-written a training module in ethical military decision-making for ROTC cadets based on his research.
Dr. Beorn has worked since 2007 with the Museum of Jewish Heritage's American Service Academy Program, leading discussions on the German Army and the Holocaust.  He also serves as the executive director of the Sam and Frances Fried Holocaust and Genocide Education Fund in Omaha.
Dr. Beorn is a 2000 graduate of the United States Military Academy at West Point.  He was commissioned as a lieutenant in the cavalry (armor).  He served in the 1st Squadron, 10th United States Cavalry as a tank platoon leader and as a scout platoon leader in Iraq, 2003-4.  In Iraq, he also served as the Squadron Operational Planner before leaving the Army in 2005.