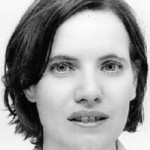 "Jewish history, the Shoah and Germany's Nazi past are fields of interest that have accompanied me for most of my conscious life. Already as a young teenager, I read the diary of Anne Frank, Imre Kertesz' Fateless, Primo Levi's works, Art Spiegelman's Maus comic and other important works of Shoah literature which have profoundly influenced me. After my high school graduation, I decided to go to Israel. My gap year in the Holy Land has proved to be an enriching and important experience. I worked as a volunteer in Kibbutz Netzer Sereni, founded by Buchenwald survivors, some of them still alive when I was there. To work and live with them, to be able to talk with them about their experiences, how they came to terms with the past and built new lives was awe-inspiring. It made me see the history I read about through the eyes of the survivors and it taught me a great respect for them," wrote Dr. Wünschmann.
Dr. Wünschmann's research interests center on German and German-Jewish history in modern times, with a focus on the Weimar Republic and National Socialism. She investigates the dynamics of inclusion and exclusion changing German society in the Nazi era and the establishment and reinforcement of antisemitic stereotypes by means of terror and extreme violence.
Dr. Wünschmann received her Ph.D. from the University of London, Birkbeck College in 2012 with a study on Jewish prisoners in the pre-war Nazi concentration camps. She analyzed the function of camp imprisonment for the development of the regime's anti-Semitic policies and the camps' crucial role as instruments of terror and exclusion in the making of the Nazi Volksgemeinschaft. She is now preparing the publication of her Ph.D thesis. First results of her study have been published in the article Cementing the Enemy Category: Arrest and Imprisonment of German Jews in Nazi Concentration Camps, 1933-1938/9 that has been published in the Journal of Contemporary History, Vol. 45 No. 3 (July 2010), 576-600.
Dr. Wünschmann is currently a postdoctoral fellow at the Martin Buber Society of Fellows in the Humanities and Social Sciences at the Hebrew University of Jerusalem. She works on a critical evaluation of early 'theories of terror' advanced in the 1940s by émigré social scientists who survived the Nazi concentration camps. Focusing on the critical reception of these 'scientifications' of personal experiences of violence by the academic establishment, her project analyzes these sources within the context of Wissenschaftsmigration.
In addition to her research, Dr. Wünschmann teaches courses on Holocaust History as well as on Jewish History and Culture at the Hebrew University's Department of Jewish History and Contemporary Jewry. In the past, she has also worked extensively in exhibition making, contributing, for example, to the realization of the Memorial to the Murdered Jews of Europe in Berlin. In addition to her native German, she has mastery of English and Hebrew, practical knowledge of French and Italian and – with the help of her Fellowship – she has now started to study Russian.
Dr. Wünschmann may be contacted via e-mail at kim.wuenschmann@mail.huji.ac.il