Cohort I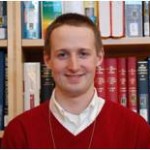 Eric's dissertation, tentatively titled "Creating Killers: The Nazification of the Black Sea Germans, 1941-1944," probes the relationship between SS Volksdeutsche policy and the prominent role of Soviet ethnic Germans in the Holocaust in southern Ukraine. In addition to his native English, he is fluent in German and has a command of Russian and French.
Eric was born in Glenview, Illinois in 1982. He became interested in Holocaust Studies as an undergraduate at St. Olaf College in Northfield, MN, when he enrolled in a seminar on the Holocaust and read Christopher R. Browning's Ordinary Men: Reserve Police Battalion 101 and the Final Solution in Poland. Eric enjoys traveling and photography.
Dr. Steinhart has a research and teaching position at the United States Holocaust Memorial Museum in Washington, D.C.