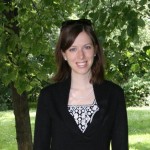 Rebecca Carter-Chand is a Ph.D Candidate in the Department of History and the Centre for Jewish Studies at the University of Toronto. Her advisor is Doris Bergen.
Her dissertation is entitled, "Doing Good in Bad Times: The Quakers, Salvation Army and Seventh-Day Adventists in Nazi Germany." The study uses government records, the groups' internal records and sources from Jews with whom they had contact in an effort to better understand rescue, assistance, antisemitism, and social welfare work during the Holocaust.
Rebecca has studied German and French. Her work has been supported by the Claims Conference, SSHRC, the DAAD, and the University of Toronto.
She will be in residence as a fellow at the United States Holocaust Memorial Museum during the 2012-2013 academic year.